Victims Page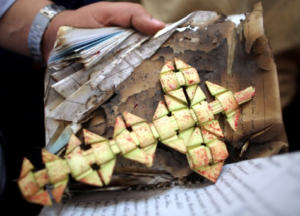 -An excerpt of a message from a wounded victim of the Palm Sunday bombing attack on St. George Church in Tanta, Mr. Benjamin Samir Ghobrial. He was helped by Santa Verena Charity to receive surgery on his right hand but a second surgery for his left hand could not be performed.
"…my left hand surgery has been cancelled due to atrophy of its finger tendons; even transferring tendons from the right hand to the left hand is not an option as it will weaken my right hand, no surgery was the decision to avoid the risk. Thank God for all his love and thanks for all your prayers. God has accepted your prayers and the surgery is cancelled. Believe me my brothers, the real handicap is not in the flesh or physical handicap, but it is whatever blocks the works of goodness, love, and mercy."
+++++++++++++++++++++++++++++++++++++++++++++++
In the last few years, there have been several tragic attacks and incidents of martyrdom of Coptic Orthodox Christians. We get excited to help when the injustices first occur and our outcries are the loudest, however as time goes on, our passion diminishes. As the memory of these incidents fade, one fact remains:  the families of the martyred and the injured victims need our ongoing help and support. 
Please keep the memory of these victims alive by praying for and helping those that were left behind. To donate to the families of these victims, please click on the corresponding link for more information on how you can help. If you'd like to donate to our general "Victim's Fund" you may write this on your check or type it online when donating through PayPal.
The following is a list of attacks whose victims you have helped in the past with your generous donations through Santa Verena Charity and who need our ongoing support:
21 Martyrs of Libya  "On Sunday, February 15th, 2015, a documented martyrdom of our Coptic youth in Libya was aired through a horrifying and shocking video. They are, without exaggeration, martyrs for the sake of their faith, for they were kidnapped and then killed solely for being Christians. If they had succumbed to the pressure and the threats and had pronounced their conversion to Islam, they wouldn't have been killed, but they paid with their lives, a price for their faith. It is befitting for us to be proud of them and to honor them, for they became among the martyrs of the church."
– A message from H.G. Anba Macarious:
St. Peter's Martyrs On the morning of Sunday December 11, 2016, St. Peter's church of Al Abbaseya in Cairo, which is attached to St. Mark's Cathedral, suffered a terrorist attack that left 25 martyred and over 50 more injured.
Al Arish Seven Christians were killed in El Arish- North Sinai between January 30 and February 23, 2017, and more Christian lives have been threatened. Christian families have been fleeing the area and need support.
Palm Sunday Victims On Palm Sunday, April 9, 2017, our churches at St. George in Tanta and St. Mark's Cathedral in Alexandria were attacked. The first blast ripped through the Palm Sunday service at St. George's Church in Tanta, killing at least 27 and wounding 78 others. Not long afterward, a suicide bomber attacked outside St. Mark's Coptic Orthodox Cathedral in Alexandria. Police officers who had been posted outside the church stopped a man wearing an explosive belt from entering the church. Two of those officers, a man and a woman, were killed, along with approximately 14 civilians and other police staff when that bomb was detonated.
St. Samuel Bus Shooting Victims A bus carrying Coptic Christians to the remote desert monastery of St. Samuel was targeted by terrorists on May 26th, 2017. 29 people were killed by gunfire in the attack. The assailants stole the women's jewelry, and the Christian men were told by the assailants, who ordered them off the bus, that the men's lives would be spared if they converted to Islam. They chose death.
Fr. Samaan of El Feshn On Thursday, October 12 2017, Father Samaan Shahata Rizkallah was chased and stabbed repeatedly in the head, neck and abdomen by a man wielding a meat cleaver, who also imprinted a cross on his forehead. He did not survive the attack.
Mar Mina/Helwan Victims At least 10 people were killed during an attack by gunmen at the Coptic Church of Mar Mina in Helwan on Friday, December 29th 2017, after attacking a Coptic shop, where two people were killed. The gunmen opened fire at the entrance as worshipers were leaving the church.
To help in providing security to the churches of our beloved Egypt, a Diocese Project has been created called: The Project of the Two Martyrs Nabil and Neseem. It has been created to train vigilant deacons in helping to guard and secure our churches and to provide security equipment to our churches such as metal detectors to help prevent future attacks.

May His blessing be your reward always.